Based on an article that first appeared at
Every year on May 20, we honor National Rescue Dog Day to bring awareness to the amazing dogs living in shelters that eagerly anticipate the day they meet their new owners and leave for their forever homes. Lisa Wiehebrink founded National Rescue Dog Day, a rescue dog owner who authored a book series called Tails That Teach to teach young children how to be kind and gentle with their beloved dogs.
The ASPCA estimates that approximately 3.1 million dogs are surrendered to shelters each year. This number has declined over time; however, too many dogs remain in shelters and are at risk of being euthanized due to overcrowding. Since many families choose puppies from breeders, these dogs stay in shelters for long periods. If you're ready to add a dog to your family, consider a rescue dog for the following great reasons.
Saving Lives
According to the ASPCA, nearly 400,000 dogs in shelters are euthanized every year in the U.S. due to overcrowding, budgetary constraints, and lack of interest from prospective families. By choosing to adopt from a shelter instead of buying from a breeder or store, you'll save a precious life and make room for another surrendered or abandoned dog. Plus, your adoption fee goes towards maintaining the shelter and feeding the remaining dogs.
In addition, rescuing a dog also means you're not supporting puppy mills or "backyard breeders," which are factory-style dog breeding facilities that prioritize profit over the dogs' health and well-being. Puppies from these often poorly-maintained environments tend to have more medical and behavioral issues over their lifetime, with the mothers kept in cages for repetitive breeding. They often use deceptive business practices, with unsuspecting families purchasing their puppies without realizing the health and behavioral issues that are likely to follow. Adopting a rescue dog makes you feel good that you didn't support an inhumane puppy mill or backyard breeder.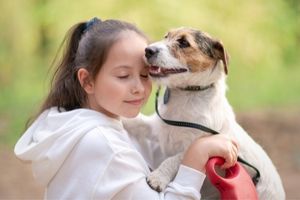 Endless Love
Rescue dogs haven't had the easiest life, with many surrendered due to physical, medical, or behavioral issues. When they finally meet their new owners and are whisked away to their new homes, they become the most loyal, people-pleasing dogs due to their eternal gratitude. Rescue dogs offer unconditional love and companionship, hoping that they're lucky enough to stay by your side for the rest of their days.
Easy Transition
It's no secret that puppies come with many needs, from training them where it's appropriate to eliminate and teaching basic commands to integrating them with other pets and ensuring they're getting the right vaccines. Adopting a rescue dog eliminates the challenging puppy stage, as they are usually a bit older, and most have spent time in a home as part of a family. Most are already house-trained and understand basic commands.
Puppies can also be a little devious until trained, with your home and possessions suffering through the training process. Not only is house-training tough on your carpets, but puppies tend to chew on shoes, socks, and furniture as they navigate the teething stage. Rescue dogs are often beyond this stage, allowing for a smooth transition into your home—minus the messes and chewing.
Cost Savings
Adopting a puppy from a breeder can be expensive, especially since the pandemic when many families introduced new puppies to their families since they had time to dedicate to training. This trend led to a surge in purchases from breeders and prices ranging from $1,000 - $5,000, depending on the breed. In addition, puppies come with extra costs that are typically already taken care of when you adopt a dog from a shelter or rescue organization.
Costs associated with purchasing a puppy include:
Vaccinations
Puppy Supplies
This National Rescue Dog Day, visit your local shelter, and chances are you'll find the perfect companion to join your family. They will, no doubt, prove to be the most loyal and loving pet you've ever had. Learn more about National Rescue Dog Day and/or contact us if you have any questions about your newly adopted canine companion!